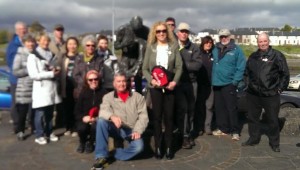 Patrick and Sarah Kaveney and their six children lived in Cross near Keash in south Sligo. They were tenants of Lord Palmerston and were among the first group of his 'Assisted Emigrants' to leave Sligo in 1847 for Quebec in Canada. They left Sligo port along with twenty eight other families from the area on the 5th of April 1847.
Just over three weeks after leaving Sligo, these emigrants entered the Gulf of St. Lawrence and were in sight of the Canadian coast when the ship was caught in a snow storm and crashed into the notorious 'Cap des Rosiers'. Only forty eight passengers survived.
Patrick and Sarah along with their son Martin were among the survivors; but tragically their five daughters were drowned. The heart broken couple set up home in 'Jersey Cove' and had four more children, with the family surname becoming known as 'Kavanagh' in Canada.
On Easter Saturday this year, 170 years after their ancestors epic journey to Canada, Rose Marie Stanley, along with many other descendants of the Kaveney's  replicated their 20 mile walk from Cross to Sligo Port.
Afterwards the walkers were received by the Mayor of Sligo, Cllr Marie Casserly at a reception at City Hall. They then proceeded to the famine memorial in Quay Street to pay their respects.
Along with organising the Famine memorial walk, Rose Marie also wrote and performed a play, entitled "Emigrant" – telling the story of Sligo's assisted famine emigration of 1847 through the eyes of Sarah Kaveney, her maternal ancestor. 
The play presents an account of Sarah's life from the time she left her home in south Sligo until her death over 40 years later in the Gaspe region of eastern Canada. Sarah always remembered fondly her native 'Cross'. Through her life, she displayed resourcefulness and determination that carried her through the many obstacles, challenges and tragedies she faced.
'Emigrant' took place in Cliffoney Hall on Thursday, 20th April and in White Hall, Keash on Saturday 22nd April. Rose Marie was accompanied on stage by her son – in – law Steve Olsen who provided the Music accompaniment.